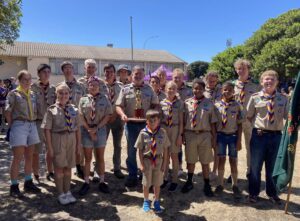 The Tonkin Trophy is a measure of the success of a Scout Group, including Meerkat Den, Cub Pack, Scout Troop and Rover Crew, measured over a calendar year. Then Tonkin Trophy for 2022 was based on the performance from 1 January 2022 to 31 December 2022.
The Tonkin Trophy for 2022 was won by 1st Durbanville and the trophy was presented at the Western Cape Founder's Day ceremony on 19 February 2023.
Positions 1 to 10 were as follows:
1st Durbanville
2nd Bergvliet
1st Muizenberg
6th Rondebosch
1st Claremont
2nd Plumstead
1st Bergvliet
2nd Fish Hoek
1st Somerset West
2nd Somerset West
2023 Tonkin Trophy
The 2023 Tonkin runs from 1 January 2023 to 31 December 2023 and will be presented to the top Group at Founders Day in 2024. For those who follow the criteria closely the following has changed:
Meerkat National Challenge, Star Awards, Kontiki and National Camp included for the first time.
Scout National Challenge needs 50% participation in a Patrol. It was 75%.
The National Scout Programme is keen to create more of an awareness around the First Class badge and what BP had to say about this. Hence every First Class Scout earns 2 points for Tonkin.
A Rover Crew Star Award has been put back into the Tonkin.
Groups who have all Warranted and Limited Warrant Scouters/adults have CC uploaded to Scouts.Digital are rewarded.
The 2023 criteria has been approved by the regional management team and DCs. The entry (form) spreadsheet is available here and should be submitted in mid February 2024.